When I saw a photo of JK Juices' Holiday Nogg on Instagram, I just knew I needed to get the recipe and share it with our fellow juicers! Love the label by the way, ladies. Nice job!
This velvety, vegan and dairy-free take on the traditional holiday eggnog is made with almond and cashew nut mylk. It is full of omega 3s and healthy fats and is sure to put your customers in a festive mood!
Yields about 40 oz.
Ingredients:
| | |
| --- | --- |
| 10oz | raw almonds |
| 10 oz | raw cashews |
| 4 tsp | maple syrup |
| 2 tsp | cinnamon |
| 1 tsp | mesquite powder |
| 1 tsp | fresh ground nutmeg |
| 1 tsp | vanilla |
| 1 tsp | clove |
| 1 tsp | sea salt |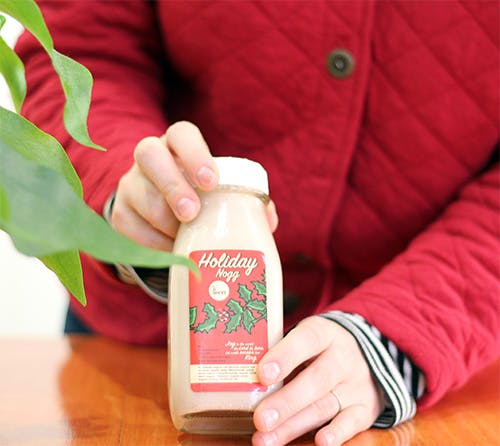 Directions:
Soak nuts in water for 24 – 48 hours, then rinse and drain.
Weigh nuts and add equal parts nuts and fresh filtered water into the blender, blend until smooth.
Strain through a cheesecloth or fine strainer or press using the X-1 Mini.
Repeat steps until all nuts have been blended and strained.
Add in spices and mix!
Pro Tips:  2 cups of water and 2 cups of nuts works well in most blenders. For a spiked version, add rum, brandy or bourbon! You can use the X-1 Mini to grind the nuts but we found that using a Vitamix blender makes a creamier mylk. To make using the X-1 Mini, see video tutorial here: Making Nut Mylk on the X-1 Mini
Let us know how you like the recipe by commenting below!
Comments
Hello, I would like to know if this recipe is shared to use for my Juice business ?
Aug 18, 2020
Robin Frey
Hi Paola, Of course! 😄 Feel free to use any of the recipes post on our website, check out our new recipe section here: https://www.goodnature.com/recipes/
Aug 18, 2020
Hi is it possible to freeze this juice?
Jan 22, 2019
Robin Frey
I asked our chef and juice business consultant Ari to be sure, he says he wouldn't recommend it because freezing then thawing kills the freshness a lot of time. You can for home use but wouldn't for a brick and mortar store...
Jan 22, 2019
How long will this eggnog last in the fridge?
Dec 18, 2018
Robin Frey
Hi Margie, JK Juices does a 4 day shelf life on this nut mylk.
Dec 18, 2018