This Cabbage Juice Recipe is a Nutrient Powerhouse
When it comes to juicing leafy vegetables, most people will gravitate towards adding kale, spinach, and mixed greens to their recipes.
If you're looking for a solid, green veggie that is packed full of nutrients, cabbage can easily be overlooked. That's why today we're sharing our unique, sweet, and delicious raw cabbage juice recipe.
Before we jump in, let's go over a few of the main benefits of cabbage. 
Health Benefits of Cabbage
Whether you're eating cabbage that is fermented or raw, your body (and your customers) will thank you for the boost of valuable vitamins and nutrients. Here are a few major health benefits of adding cabbage into your diet: 
Anti-inflammatory 

High in Vitamin C 

Lowers blood pressure 

Packed with fiber 

High in Vitamin K 

Improves heart health

Helps maintain weight loss 

Increased Vitamin A

Promotes detox in the body 

Assists in preventing stomach ulcers and peptic ulcers 

Packed with amino acids
Powerhouse Cabbage Juice Recipe
Yield: Three 12oz bottles of juice. Yield varies depending on the produce. 
Ingredients: 
7oz Chard

5.5oz Kale

3.66oz Green Cabbage

24oz Green Apple

4oz Celery


5.33oz Lemon 
For tips on how to prepare your produce for juicing, view our article here.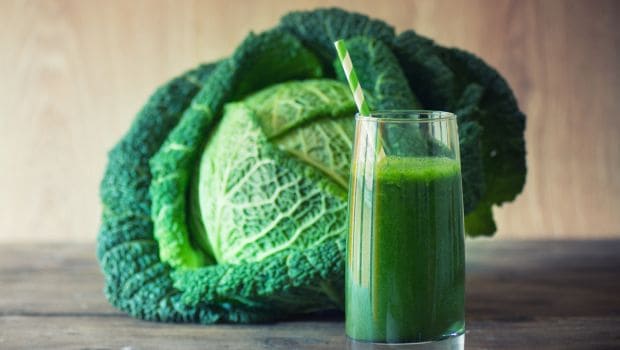 Directions 
Wash all produce (make sure all of the dirt is removed from the kale and chard)

Juice all ingredients together 

Chill  

Bottle and sell or drink and enjoy! 
This unique recipe is easy to make for yourself or your customers! 
What's your favorite green vegetable to use in juice recipes? Let us know in the comments below!
Note: Want to know exactly which ingredients pair well together in freshly made juice? Grab your copy of The Juicing Companion, which makes coming up with unique recipes as easy as turning a page.